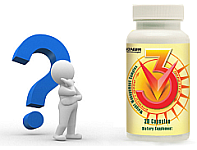 I often receive questions about V3 via email or phone so I decided to put up this FAQs page for your convenience. Here you can find answers to the questions I get asked most often. If however, you do not find the answer you are looking for please feel free to contact me.




Is V3 Safe?
Absolutely. Taking Voyager V3 is a very safe and effective way to curb your appetite while boosting your energy level and mood.* Unlike a lot of diet products out there, V3 doesn't cause nervous or jittery feelings. As with any supplement, there are some precautionary measures you should take which are listed on the label. These include not taking V3 if you are on a MAO inhibitor, while taking cold medications containing Pseudoephedrine or Ephedrine, or taking with alcohol. Always check with your healthcare practitioner before you begin taking any diet supplement if there is any concern about a possible interaction with a medication you may be taking.
Is V3 FDA Approved?
Not per se. The FDA (currently) regulates all dietary supplement products and their ingredients differently than ordinary food and drug products. Under the Dietary Supplement Health Act of 1994, the manufacturer is responsible for ensuring the safety of the product before it is marketed and must submit any reports of adverse events associated with the product to the FDA. The FDA is responsible for taking any action warranted against any dietary supplement after it reaches the market. Rest assured, V3 has a track record of being a very safe and effective weight loss aid without the nervous and jittery side effects caused by many other weight loss products.
What Are The Ingredients In V3?
I have created a page specifically for this question where you can view the actual V3 label of ingredients.
Does V3 Really Work? – How Much Weight Can I Expect To Lose Taking V3?
Your level of success in losing weight depends on several factors – your caloric intake, your level of physical activity to expend calories, and your metabolism. In other words, you need to create a calorie deficit in order to lose weight. V3 assists you by allowing you to much more easily manage your appetite while boosting your metabolism and helping prevent cravings that normally make your mood take a nose dive when dieting. With the ability to have good portion control and a boost in your metabolism you can create the calorie deficit you need to lose weight comfortably.
Be aware that losing no more than 1 to 2 pounds per week is considered the safest way to lose weight as you will be losing mostly fat rather than lean mass.
So will you lose weight taking V3? Yes. Read real testimonials.
How Do I Take V3?
It is suggested to take one V3 capsule in early morning or afternoon on an empty stomach or two hours after a meal with 8 ounces of water. You may take an additional capsule if needed but not to exceed 4 per day. One capsule is usually enough for good appetite suppression and energy.
How much does V3 cost?
V3 is sold for $59.95 for the 30-capsule bottle or the 30-capsule daily servings carton.
Is Their A Cheaper Way To Buy V3?
Yes. You can become a Preferred Customer by signing up for the monthly auto ship program. This will give you $10 off each monthly shipment of V3. Follow the link to view the Preferred Customer Autoship Terms and Conditions.
Another less expensive way to buy V3 is to become a Voyager Health Technologies Associate and purchase V3 wholesale.
Where can I purchase V3?
You can purchase V3 from any Voyager Health Technologies Associate – either directly or from his/her Voyager website.