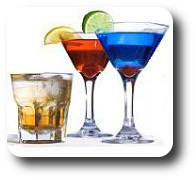 Alcohol and weight loss are not typically words we often hear being used together. In fact, popular belief is such that the consumption of alcohol counteracts the effects of a good weight loss program by adding to belly fat. If you have ever heard the term "beer gut," then you know exactly what I mean. And while studies support the beer gut syndrome, you may not realize there's more to the story. Breaking down the concepts behind alcohol's fat contributing properties may help shed some light on your own weight loss efforts.

Since alcohol technically contains no fat, it stands to reason why some might question whether it adds to belly or overall body fat at all. But what alcohol does contribute to our bodies is calories. A stunning 7.1 calories per gram to be exact and the calories vary per drink, depending on what type of alcoholic beverage you consume. Thanks to a substance called Acetate (which is what alcohol is converted to inside our bodies), our body's fat burning abilities decrease by more than 70%! Combine this concept with the calories in the beverage as well as the calories you consume from food and the terms "alcohol and weight loss" begin to sound downright silly together. Additionally, our bodies need to burn through the alcohol before using any other source for energy, such as carbohydrates or fat. This means, the more alcohol you consume, the longer it will take for your body to begin burning unwanted fat. Hence, the fat stays on your belly, hips and thighs longer. 
As if this weren't frightening enough, there is more to alcohol's fat contributing properties. Why do we drink alcoholic beverages in the first place? To relax or minds and bodies after a stressful work day or to simply cut loose and have fun for the night, right? While I see nothing wrong with having fun in life, it is important to remember that not only are we loosening our inhibitions to dance or say things we wouldn't normally say, but we are also loosening our inhibitions to stick to a healthy food regimen. Most of us tend to pair beer with wings or burgers. Wine with rich foods or chocolate. And let's not forget the sugary juices and sodas we use to mix with our hard liquor drinks. All of this will send any one of us into a downward spiral on our weight loss programs. Not to mention the day or two of lost exercise due to a potential hangover. Alcohol and weight loss? I think not.
Studies show that, aside from its fat contributing properties, alcohol brings some additional unhealthy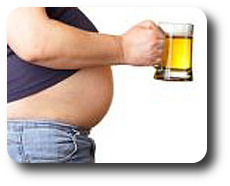 properties to the table. One of those is empty calories. In order to perform optimally, our bodies need nutrient dense calories that will supply the vitamins and minerals we need for sustained energy and growth. So if you are counting calories and think it's okay to replace a meal with a few drinks, you need to consider the healthy calories you are robbing from your body by passing up a healthy meal. Another unhealthy property to alcohol is that it affects hormone production by lowering blood testosterone in men and raising cortisol levels. Both of these factors are major contributors to belly fat.  
Overall, it is best to stay away from alcohol altogether during a weight loss program. Once you reach your goal weight, having an occasional drink from time to time should be no big deal. Just remember the principles you have learned from this article and apply them wisely. And always remember that alcohol and weight loss NEVER go together.