Fasting – An Age Old Concept
Many of us are aware of the age-old concept of fasting for spiritual reasons, but a recent trend that is gaining attention throughout our society is fasting to lose weight. Does it work and if so, do the results of fasting last?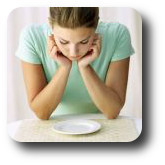 For most of us, food is a pleasure. We enjoy the aroma of a savory meal cooking and we enjoy the taste even more. Especially those comfort foods we grew up eating with heaping amounts of butter, cheese and heavy starches. As our bodies mature into adulthood, however, the majority of us are not able to handle these foods on a regular basis without developing some health problems and becoming overweight. When the light bulb finally illuminates and we realize that we need to drop the excess pounds in order to look and feel better, we are tempted to take the quickest route possible. The latest trend in fad diets always promises a large amount of weight loss and quite often, that is the case. We start these diets with a zeal like no other, picturing ourselves looking like the model shown on the advertisements…one, two or ten sizes smaller than before. But what these fad diet programs fail to mention (in large print, at least) is that the weight loss results won't last if you go back to your old eating habits when the diet program is complete. They may promise that you will drop 10 pounds in those first two weeks of dieting, but rarely do these programs mention learning to develop healthier eating habits along the way to ensure your weight loss remains permanent. Why not? It's because we have become a society of immediate gratification and easy results. We won't buy into a concept if we are told there is work involved. The same is true for fasting to lose weight. Yes, you may get wonderful results in the first few weeks, but let's explore what happens after the fasting is over and you need to actually EAT to stay alive.
Fasting Affects Metabolism
Our bodies are naturally programmed to monitor and measure our intake of food in order to gauge where our metabolism should be set. If we live our entire lives eating as we please, our metabolism is set at the pace it is accustomed to and works at that pace to help break down our food and process it accordingly. When we stop eating altogether, or even drastically decrease our food consumption, our bodies switch into a "calorie-saving" mode by greatly slowing our metabolism in order to make our fat storage last longer. This is a natural, inborn survival method. If you are fasting to lose weight, this WILL happen to you. In fact, not only will your rate of weight loss drop once your metabolism slows down, you will most likely find yourself gaining back twice the amount of weight that was lost! Why? Because we fail to realize that once our new metabolic rate has been set to "calorie-saving" mode, it is not easily or quickly switched out of that mode. If we go back to our previous eating habits with a slow metabolism, we can expect to gain a lot of weight, fast.
So what is the answer to losing weight and keeping it off for good? Simply put, lifestyle change. We must reprogram our minds to a new way of eating that involves healthy foods and gradual weight loss. Generally, 1-2 pounds per week of weight loss is the safest approach for both immediate and long term health. Weight loss is not a race. It is a lifestyle approach that should begin now and last throughout the rest of our lives. If you are considering fasting to lose weight, please weigh the long-term effects before making your final decision.