Being a new mom can be a bit of a challenge within itself, not to mention the task of achieving weight loss after pregnancy. Most women are eager to get back to their pre-pregnancy weight as quickly as possible and understandably so.
Priority One – Your Baby, Not Your Weight
First and foremost, your baby's health should come before your weight loss plans. For breastfeeding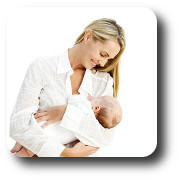 moms, it is important to stick to a healthy diet in order to keep your milk production at a healthy level for your baby. Fortunately, all the foods you need for healthy milk production are also great for healthy weight loss after pregnancy. Be sure to stick to lean proteins, fruits, vegetables and whole grains while making sure you consume no less than 1500 calories a day. Your body will naturally burn 200 to 500 calories a day by simply breastfeeding your baby, so be sure to keep up with your caloric intake for a healthy mom and baby. 
Start Easy With Exercise
While you may be eager to get back into the gym as soon as possible, make sure you start slowly with your exercise habits after delivery. Ask your doctor how long you should wait to begin exercising, as every mother's situation is different. Women who delivered through C-section should definitely wait for their doctor's okay before exercising. When you do begin an exercise regimen, it is highly recommended by medical professionals that you start with an easy walking routine. This is a great opportunity to spend time with your baby in the great outdoors and put that new stroller to good use. Slowly increase the time you spend walking, as well as your intensity, over the course of a few weeks. Once you feel you are ready, start working in some aerobic exercise and stretching techniques. Your body will thank you for taking it slowly.
Remember to treat yourself to something nice every now and then during your weight loss regimen. Whether that means a new pair of shoes or a low fat frozen yogurt, just make sure you reward yourself for a job well done. This will help keep mommy happy and motivated! And remember, as with any rule of thumb where weight loss is concerned, slow and steady is the healthiest way to achieve weight loss after pregnancy.